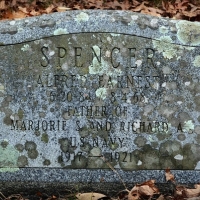 According to Audrey Mae's artistically created map diagram and her gravestone numbering system, Alfred Ernest's gravestone is Gravestone Number Forty.  Alfred Ernest ("Uncle Ern") was Audrey Mae's, Edith Anna's, and John Edward's uncle. He was their father's younger brother. Alfred Ernest was in World War I. He was in the U.S. Navy from 1917 to 1921. Using her Smith-Corona typewriter in the 1980s, Audrey Mae typed the following mini-biography of Alfred Ernest, a ninth-generation Spencer in East Greenwich, Rhode Island:
Bruce MacGunnigle – 41
Alfred Ernest ("Uncle Ern") is the younger brother of William J.B.(aka Joseph Briggs)  Spencer and Richard  Augustus Spencer.  Their parents are Anna Maria (pronounced Mar-eye-ah) and John Johnson Spencer (shared gravestone No. 8).
Anna Maria and John Johnson Spencer raised their three sons, Alfred Ernest ("Ern"), Richard ("Rich") Augustus (gravestone No. 42) and William J.B. (aka Joseph Briggs) at the Spencer family home located at Spencer's Corner (intersection of Division, Crompton and Shippeetown Roads) in East Greenwich, Rhode Island, United States of America.
According to Audrey Mae's mini-biography of Alfred Ernest, he married Elize Jane Gibson but the spelling of the first name is a typing error.  Aunt Elsie's full name was Elsie Jane (née Gibson) Spencer.  She was born 2-29-1884 and died in 1976. Web site author is not sure where Elsie Jane ("aunt Elsie") is buried.
One of Audrey Mae's sons remembers an emotionally upsetting story from his childhood about aunt Elsie's brother, Charlie Gibson. Alfred Ernest ("Uncle Ern") and his wife's brother were building houses on Campbell Street in West Warwick when Charlie Gibson had a heart attack and died. Charlie had been cutting wood when he suddenly died and, of course, this left a lasting impression on Audrey Mae's young son.
When the web author was interviewing Audrey Mae (née Spencer) MacDonald at her second daughter's home in 2003, she said that "Ern married Elsie Gibson from England. She was a great cook. I loved to eat there.  Ern moved into Elsie's house.  There was a big back yard. There was a fireplace.  There was an iron tub set in back yard on table. It would "turn to wash and rinse clothes." Audrey Mae's second son commented on this site saying: "I knew they lived in the house on New London Turnpike.  There was definitely a big back yard. There was a big building toward the back where Uncle Ern kept his old International flatbed truck that he used to bring firewood around to all of us.  He also used the truck with a tarpaulin over the bed to take all the Sons of Veterans around to the grave yards on memorial day.  Spen and I would go along with them."  Audrey's oldest son recollected, "I heard Elsie was English.  She had a brother Charlie that lived with them and he spoke with an English accent. I know Ern moved in there. " In 2003 Audrey Mae told the web site author: "Margie, their daughter married Eddie Nestor.  Their son Richard had two daughters."
Alfred Ernest ("Uncle Ern") as well as his brother, William J. B. Spencer (Audrey Mae's father) were skilled home builders and very skilled carpenters.
Audrey Mae's daughters remember their Uncle Ern as well as their grandfather, William J.B.(aka Joseph Briggs) as tall, thin men.  Alfred Ernest's ("Uncle Ern") gravestone markings record his U.S. Navy Service from 1917 to 1921. Uncle Ern's son, Richard Anthony, also served. Richard Anthony was in the  U.S. Air Force from 1941  to 1945. Both father and son served and that is impressive.

Uncle Ern and Aunt Elsie's daughter was Marjorie Gibson (née Spencer) Nestor. She was married to Eddie Nestor, Sr. Marjorie and Eddie had one child, Eddie Nestor, Jr. (Eddie's formal name could be Edward but both father and son were always called Eddie).
Audrey Mae's above reference to Lovin refers to Marjorie's second husband. After Eddie Nestor, Sr. death, she married a Mr. Lovin.  Marjorie died sometime after Audrey Mae's death.  Audrey Mae died in March of 2007.
Audrey Mae's descendants believe that "Uncle Ern's" and "Aunt Elsie's" son was Richard Anthony Spencer whose gravestone is Gravestone No. 39.
Audrey Mae's gravestone numbering system and generation numbers with the son, Richard Anthony, and father, Alfred Ernest:
Richard Anthony's two daughters, Jane and Deborah, and therefore Uncle Ern's two granddaughters' gravestone is Gravestone No.41. Since Jane and Deborah are eleventh-generations Spencers in East Greenwich area of Rhode Island and there are no dates of death on their headstone, Jane and Deborah could still be living or if deceased, they could be buried some place else.  More family research is needed. Audrey Mae's mini-biography of Uncle Ern's granddaughters:

"Spencer, Johnson, Goff, Tarbox,Gibson,Smith and Nestor descendants, if you have any additional information on Alfred Ernest ("Uncle Ern"), please add a comment to this web site and the web site editor will add this to the site. Thanks."