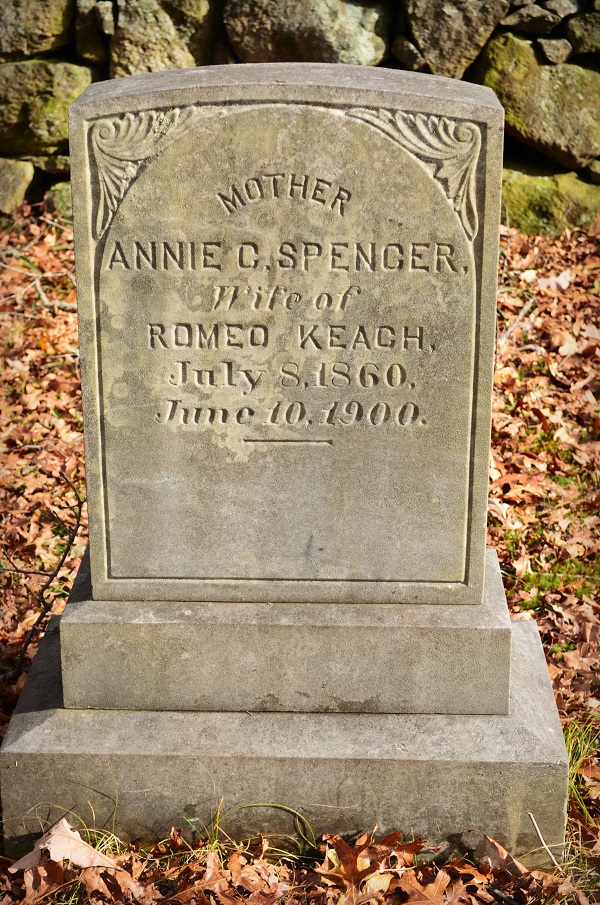 According to Audrey Mae's artistically designed cemetery map and Audrey Mae's gravestone numbering system in her Spencer Family Cemetery, Annie Caroline Spencer's gravestone is Gravestone Number Sixty-Two. Using her Smith-Corona typewriter in the late 1980s, Audrey Mae typed the following mini-biography of Annie Caroline, an eighth-generation Spencer in East Greenwich, Rhode Island.
Bruce MacGunnigle – 63
Annie Caroline only lived thirty-nine years.  Audrey Mae did not leave any other information about Annie Caroline.  Web site author does not know which Spencer line Annie Caroline descends. More research is needed.
Of interest is that Audrey Mae's, John Edward ("Ed") and Edith Anna's mother, Mary Jane, is a Vaughn.  Mary Jane's father's name was Charles Vaughn.  The Vaughn historical cemetery in East Greenwich, Rhode Island is called The East Greenwich Historical Cemetery Number Seven (7) located on the southwest corner of Division Street and South County Trail (aka Quaker Lane, Route 2).  Web author does not know how or if this Vaughn historical cemetery has any relationship to the Charles Vaughn in Audrey Mae's mini-biography of Annie Caroline. Of interest is to find out about Annie Caroline and Charles Vaughn's daughter Gladys who was adopted by Jerome Stone. Apparently Gladys married a William Loring and their son is Loring, the cartoonist!  (Author's note:  Who ever said genealogical research was boring never got into it!) More research is needed.
"Spencer, Vaughn, Keach, Stone and Lorning descendants, if you have any additional information on Annie Caroline Spencer , please add a comment to this web site and the web site editor will add this to the site.  Thanks!"