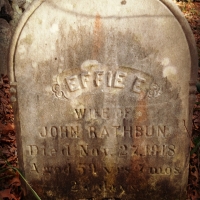 According to Audrey Mae's artistically designed cemetery map and Audrey Mae's gravestone numbering system in her Spencer Historical Family Cemetery, Effie E. Kenyon's gravestone is Gravestone Number Fifty-Nine. Using her Smith-Corona typewriter in the 1980s, Audrey Mae typed the following mini-biography of Effie E. Kenyon:
Bruce MacGunnigle – 53
Audrey Mae's notes show that Effie is in the Spencer Family Cemetery because she was the third wife of John Rathbun (No 58).  Effie lived nine years beyond her husband, John.

John Rathbun is in the Spencer Family Cemetery because his first wife was Evelyn Augusta Spencer (gravestone No. 57).  Evelyn was the daughter of Audra (gravestone No. 53) and Benjamin (gravestone No. 54), the granddaughter of Richard Anthony ("Deacon") (gravestone No. 6) and Roby Spencer (Gravestone No. 5), and the great-granddaughter of Huldah (No.1) and John (No. 2) Spencer.
To have a third wife of a Spencer-in-law buried in the Spencer Family Cemetery says a great deal about the generosity and openness of the Spencer families. Spencer descendants can feel pride at the inclusiveness of their ancestors who showed acceptance of an "outsider" who took the place of their deceased love one, Evelyn Spencer (gravestone No. 57).
Audrey Mae had no other information on Effie E. Kenyon.  Of interest, however, is that Audrey Mae's friend from childhood days was a Maisie Kenyon.  More research is needed.
Kenyon and Rathbun descendants, if you have any additional information on Effie E. Kenyon, please add a comment to this web site and the web site editor will add this to the site. Thanks."